houston family photographer
It's that time of year again—-you've been busy preparing for the first day of school—new shoes, a backpack, easing a few jitters….and now it's time to take those back-to-school photos!  You can keep it simple or get creative!  Here are some ideas to get you started, to help you along the way, and even a few technical tips to shoot like a pro:
Give your kiddo a

bowl of apples

to play with, and start shooting.  Sometimes the best pictures are those NOT posed and without your child smiling at the camera.
Set up a little spot outside with some

books, crayons

, and other back-to-school items.  Allow your kiddo to play.  Then, start pressing that shutter button!
Using chalk, write on a

mini chalkboard

the date and what grade your child is going into.  Ask your little to hold the board or position it next to them for the shoot.
Attempt to take some

detail shots

—maybe your child is holding a chalkboard with the date.  Zoom in on just their hands holding the board.  Or maybe he is is  holding an apple—try to capture the apple.  Again you will have another lovely series of photos.
Each year put your kiddo in the

same location

for pictures—maybe your favorite tree, on the front porch, etc.  One day your kiddo will have a beautiful series of pictures with which to remember his/her school days.
Try to position your kiddos in

shade

—it's hot and I promise your pictures, whether shooting in auto or manual, will look so much better.  No harsh, bright light in your kiddos sweet faces.
Try to

remember not to yell

at your kiddo—the last thing you want is your sweet little crying, red-eyed for the photos.  Then off to school he/she goes already upset.  Best to avoid this!
Start your morning 15 minutes early on the first day allowing time for photos.  Rushing through them will only drive you and your kiddos crazy.
Once you're at school, consider bringing your camera inside.  Take photos of the kiddos walking inside with their backpacks, with their teachers, and new friends.
I partnered up with some amazing gals for a back-to-school shoot this week for The Little Crane Smocked Shoppe.  Lindsy Steinberg with Lindsy Steinberg Events set the scene for us—an adorable ABC banner, crayons, coloring sheets, cookies and more.  The kiddos dressed up sporting the Little Crane's adorable pieces and had loads of fun doing so!  Please see their site and shop for some back-to-school clothes and call Lindsy to plan your kiddo's next party!  Hope these pics help you brainstorm for your photos!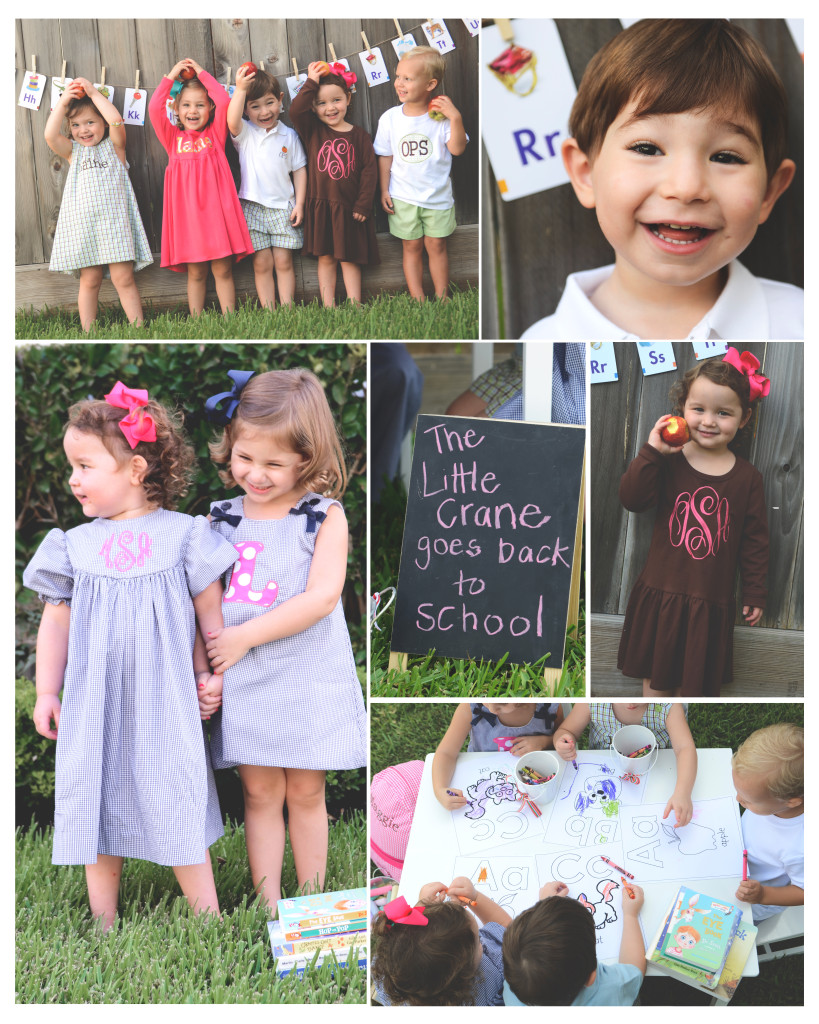 Pin IT
Check back next week—-Mia's first day is Monday and you bet I'll be sharing some of my pictures with you!  Email me some of your photos and I will share and post them on the Paperhearts blog!  Happy First Day of School!  XO