houston family photographer
One year ago, some dear friends of mine asked me to take their photos for their holiday card.  I did, and soon after that, I booked five other clients for family sessions before the end of 2012.  In those moments after my first shoot, I slowly realized I COULD do this.  I COULD take photographs.  I NEVER imagined I'd be here now right now.
As a teacher, I took photos in my classroom almost daily.  I took photos of my daughter every second of every day once she entered our world.  I'd email photos to my uncle and he'd tell me "you have the eye" over and over, but either I didn't believe him, or I didn't believe in myself.  I've thought about this new career for years—-have always enjoyed taking pictures (in Auto!), but consistently hesitated to throw myself into learning something new—the mechanics of a camera?  YIKES!  This scared me.  Could I do this?  Could I be any good?  Would people actually hire me?  I knew nothing.  I didn't know what aperture was.  I had no clue about "depth of field," and I could go on and on.  I think I called my incredible uncle in California daily for help, tips, and with questions as I worked through the unknown.  I've taken classes, emailed my uncle, played with various cameras, called my uncle, talked to professionals in the field, texted my uncle, and have spent hours upon hours late into the night, reading articles, looking at photos, and studying.  In one year, I've learned Photoshop, mastered the use of three SLRs, purchased LOTS of equipment, and made my head spin (in a good way of course).
Upon leaving the classroom several years ago, I was missing something.  I had no outlet in which to express myself creatively.  Well, a year ago I found it again.  I'm again using the right part of my brain, and I always want more.  I see the world in new ways.  Walls, trees, fields.  Relationships, babies, families.  I look at the details with new perspective.  My Mia's hands, her mouth, her eyes—the camera allows me to capture every little detail so I will look back and know that I never missed a thing.
A year ago today, I doubted myself a little, cried a little, stressed a lot.  Paperhearts was a dream—something I'd never thought I could do.  But here I am, one year into this great journey, more than 50 clients in 365 days, and a heart so full.  So many of you have trusted me with your kiddos, your memories. You've allowed me into your lives to capture beauty, moments, laughter, and love.  We've become friends, and I adore each of you.
I could not have come this far without help from LOTS of folks.  Thank you to my amazing husband who has listened to me complain, carried my sofa prop in and out of the park three weeks in a row, taught me about having my own business, and who has been more than patient with me (poor guy).  Thank you to my little Mia who has learned to hate my camera (as I constantly have it in her face!), but learned to love and use her own, bringing a smile to my face.  To my family, thank you for all your support and love and for putting up with me.  Ha!  And to my friends—you keep checking in, you send me messages, you throw your support at me constantly—this keeps me going when sometimes I just want to give up—-THANK YOU!  I love each and every one of you!  Last, but certainly not the least, a GIANT thank you again to my talented uncle—we've become closer throughout this journey, and I can't begin to express to you my gratitude for all your support and patience.  When I called you before 7 a.m. Pacific time, freaking out because I couldn't get my camera lens on my camera body way back when (DUH!), you walked me through it and kept your calm, even when you hadn't even had your morning coffee.  Thank goodness for YOU!
So to celebrate this special year, dressed in our Dora costume and princess tiara, my Mia and I had a little celebration.  The very talented Jennifer Rosenzweig of Sweet Designs created the perfect cake for us!  I not only needed a heart cake to celebrate Paperhearts' one year birthday, but it HAD to have rainbow layers!  Jennifer made my vision come true—-we sang, blew out the candles (one to grow on!), and had a slice (or two or three or four!).  It was deliciously perfect, to say the least.  Jennifer, you're awesome!!!!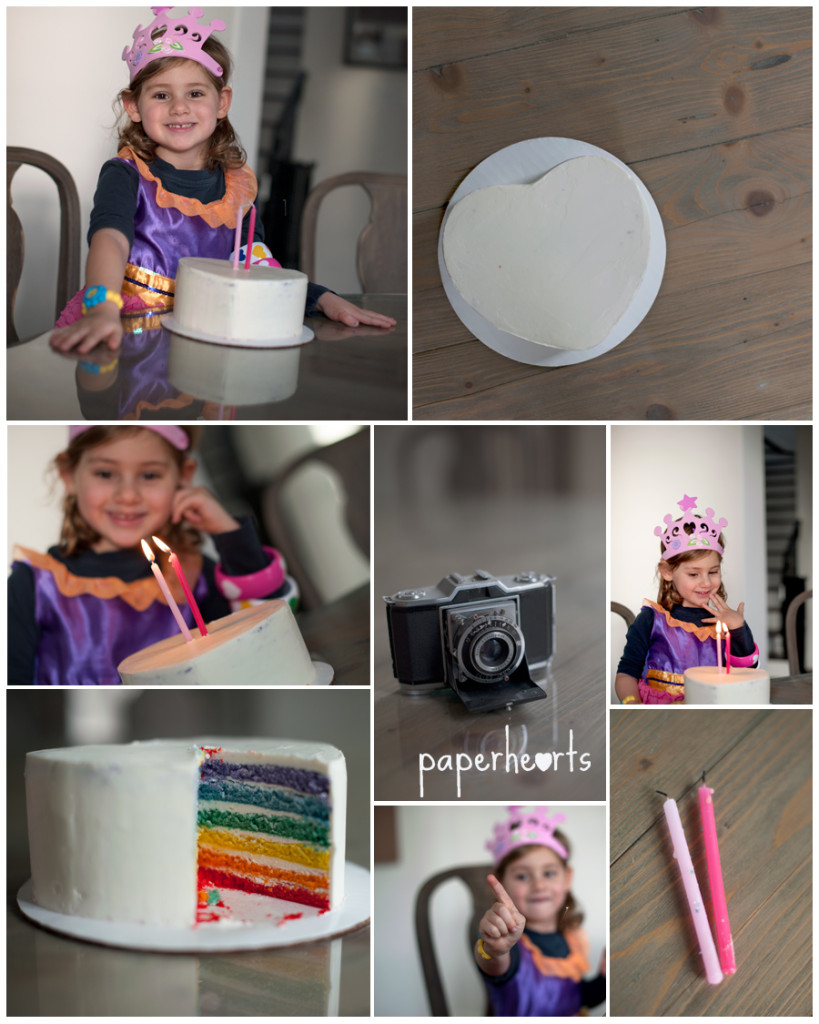 Pin IT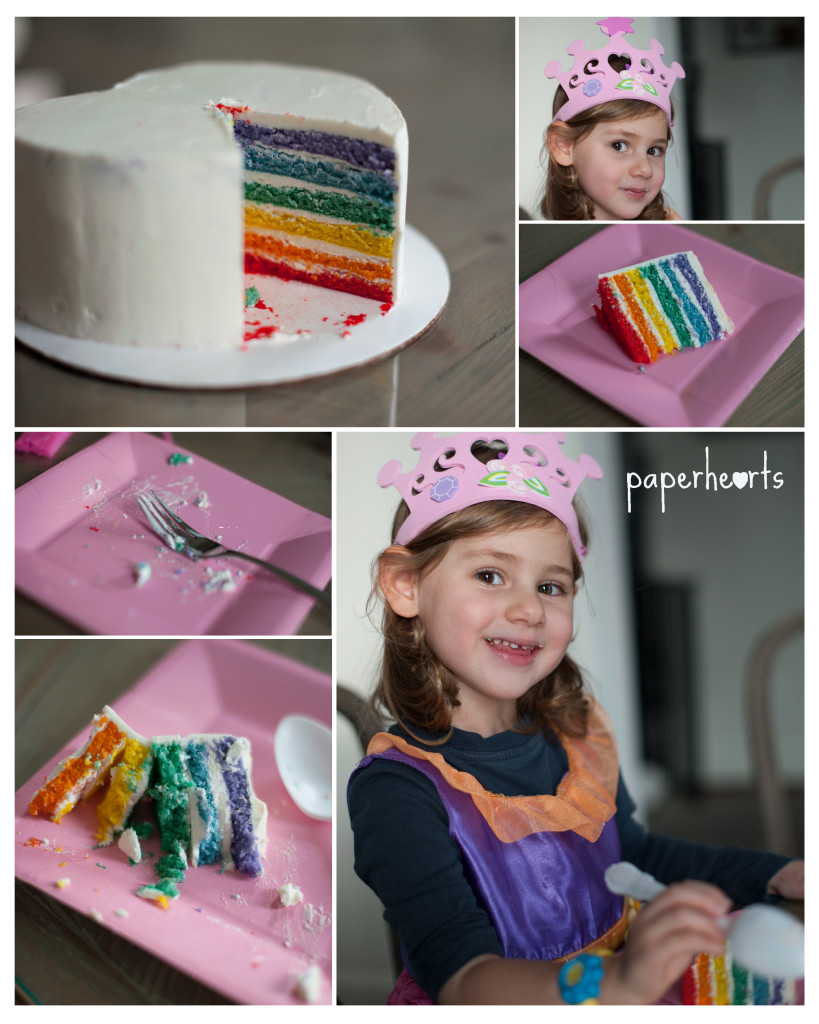 Pin ITHappy birthday, Paperhearts!  Here's to another amazing year filled with memories, great images, and new friends!  Thanks to all of YOU!!!!!  XO